Cruise Japan with Jeff and Ruth in 2021!

Japan In Bloom r/t Tokyo
April 11th through April 21st, 2021
10 nights aboard
THE NAUTICA
EARLY BOOKING SPECIAL – Book by AUGUST 31st, 2019 and get $100 additional Stateroom Credit!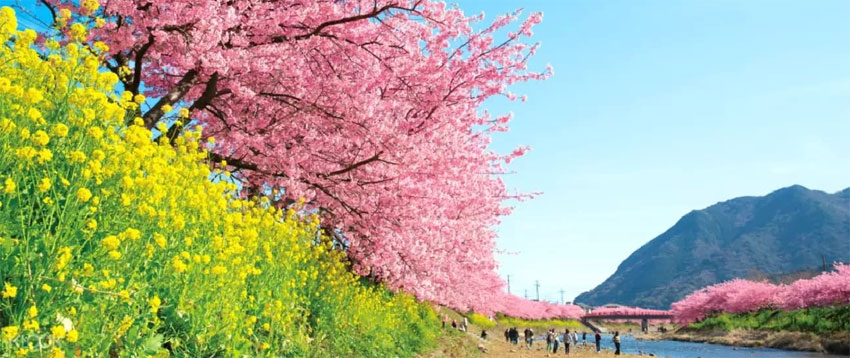 Ancient traditions and natural wonders await among the beautiful blooms of Japan's delicate pink cherry blossoms on this perfectly timed springtime journey to the glorious island nation. We'll catch a glimpse of the majestic Mount Fuji from Shimizu, and visit the lovingly tended temple grounds in Kyoto, the former imperial capital of Japan. In Hiroshima, we can visit the Peace Memorial or have dinner in one of the city's upscale restaurants. We'll sail through the Kanmon Straits and take in sweeping vistas of the natural and urban landscapes in Busan, South Korea's second-largest city. We'll spend a day in Nagasaki, where the many monuments and museums celebrate four centuries of tradition, and a day in Kagoshima, where Sakurajima, Japan's most active volcano, regularly puts on a show.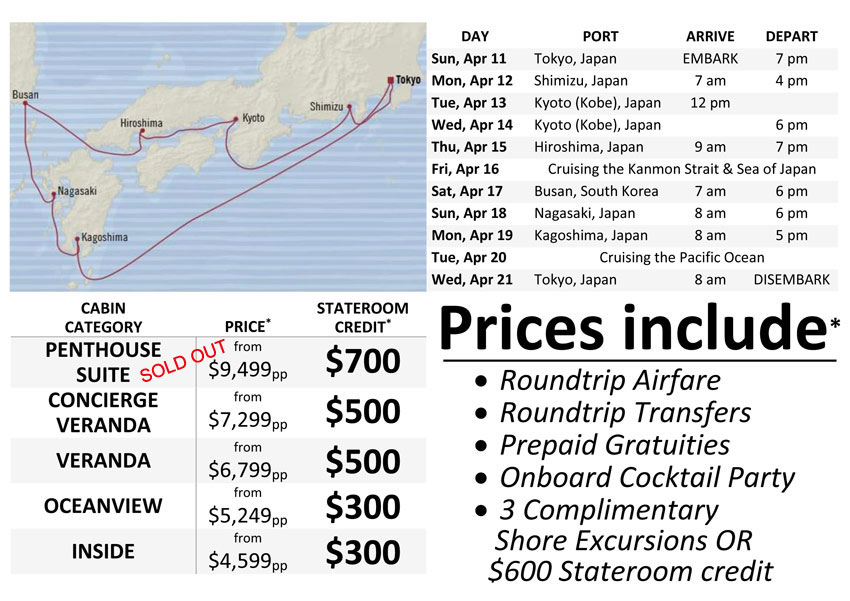 Sunday, April 11th TOKYO, JAPAN*
Our adventure begins in Tokyo, where we board the beautiful Nautica.
Monday, April 12th SHIMIZU, JAPAN
In the shadow of Mount Fuji, Shimizu is one of the most beautiful ports in Japan. Walk through the pine groves of Miho, home to a 650-year-old Japanese black pine, or enjoy spectacular views of Mount Fuji from the lush, forested hill of Nihondaira. Take in the seascapes on a bay cruise or learn of undersea delights at Japan's first sushi museum. For a historic angle, get a glimpse at feudal life in Japan in 200 BC at the archaeological site of Toro.
Tuesday, April 13th & Wednesday, April 14th KYOTO (KOBE), JAPAN
Visit the breathtaking temples and shrines of Japan's old imperial capital, Kyoto, or explore ancient Nara, the cradle of Japanese arts, literature and crafts, with its magnificent shrines and temples that predate Kyoto's. stroll through Nara Park, famed for its deer and impressive Kasuga Grand Shrine. Then travel on to Osaka and its famed castle. In Kobe, visit historic Himeji Castle, a huge edifice built entirely of wood and tile.
Thursday, April 15th HIROSHIMA, JAPAN
Visit the skeletal A-Bomb Dome, the Peace Memorial Park and Museum and the statue dedicated to the children who died after the atomic bomb was dropped on this city in 1945. Stroll through beautifully landscaped Hiroshima Gardens, visit the rebuilt Hiroshima Castle or journey to the exquisite sacred island of Miyajima and see the extraordinary Itsukushima Shrine.
Friday, April 16th CRUISING THE KANMON STRAIT & SEA OF JAPAN
Saturday, April 17th BUSAN, SOUTH KOREA
From trendy cafes and famous fish markets to sacred temples and traditional tea ceremonies, Busan, the second largest city in South Korea is bursting with flavors and culture. Take a walk in the relaxing Yongdusan Park while admiring the various species of trees and a view of the Busan Tower. At the Hongbeopsa farming temple, explore the renowned large Buddha statues at the Main Buddha Hall while walking along a water lily path, or experience a traditional Korean tea ceremony conducted by one of their monks.
Sunday, April 18th NAGASAKI, JAPAN
Discover remnants of old Nagasaki beside the modern city. Visit the Peace Park and Atomic Bomb Museum. Or travel to Arita, home of magnificent Japanese ceramics, and tour famous Kakiemon Kiln, which continues a 400year-old tradition. Experience feudal Japan and the natural wonders of Shimabara Peninsula with its volcanoes and hot springs.
Monday, April 19th KAGOSHIMA, JAPAN
Visit the exquisite Iso-Teien Garden and its villa, built in 1660, and enjoy its gorgeous views before a short ferry ride to smoking Sakurajima for a close-up view of the volcano and its lava fields. Or journey into the countryside to Chiran and its well-preserved streets lined with samurai homes. Enjoy the beautiful landscape of Lake Ikeda and the stunning vistas of the Satsuma Peninsula.
Tuesday, April 20th CRUISING THE PACIFIC OCEAN
Wednesday, April 21st TOKYO, JAPAN*
Our adventure ends where it began. Until next time! Au Revoir.
*Ask about pre or post Tokyo package.
---
Cruise Japan with Jeff and Ruth in 2021!
FOR MORE INFORMATION OR TO MAKE A RESERVATION
Call (800) 576-2378 x101 or email info@bestcruises.com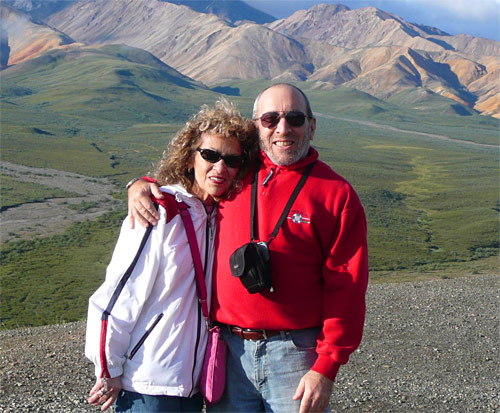 ---