Princess Cruises: Princess Plus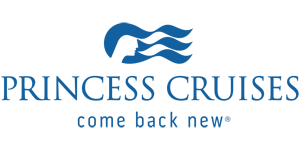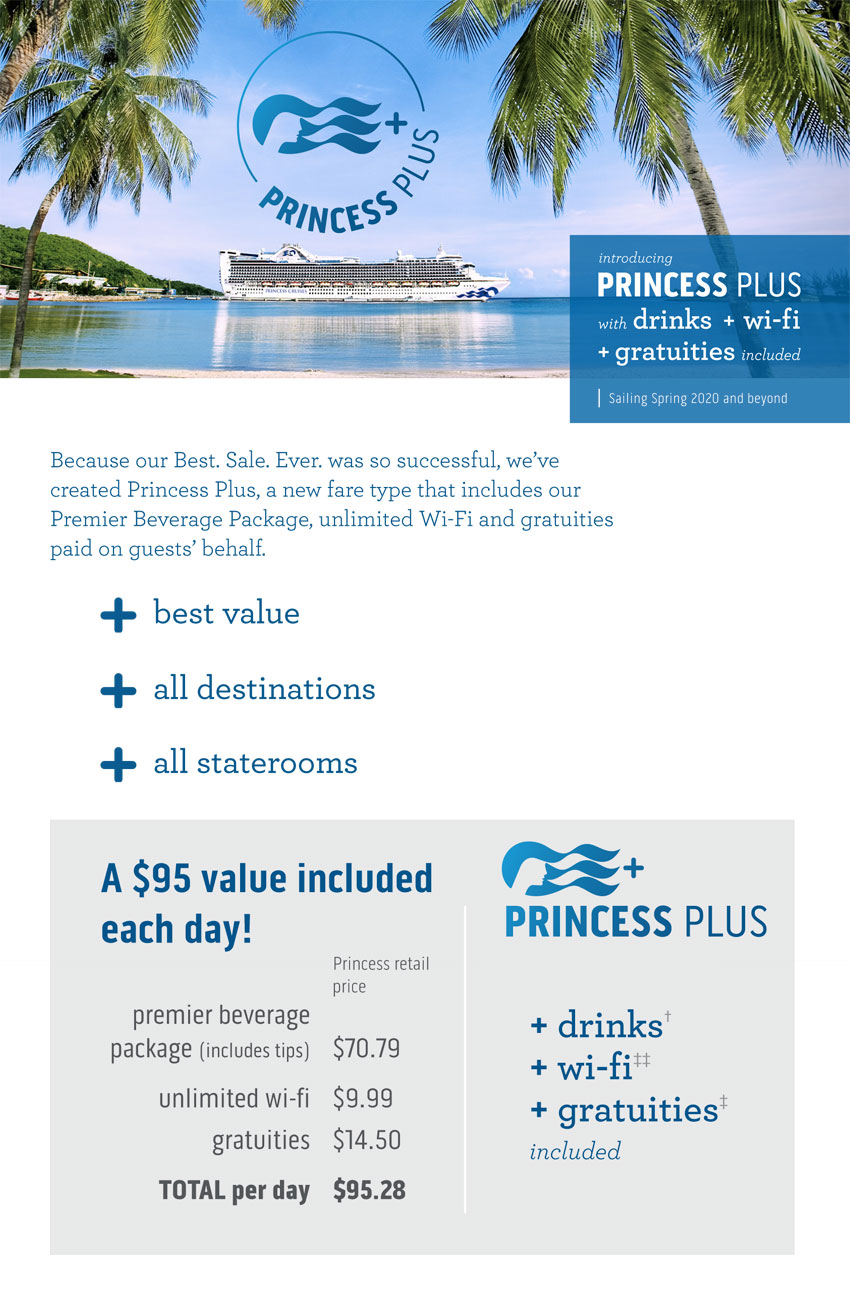 Q: I booked a client on Best Sale Ever (BSE), is this now a better deal?
A: NO. Princess Plus fare is the same great value as Best Sale Ever. Due to the unprecedented success of our Best. Sale. Ever. we introduced Princess Plus fare with drinks, Wi-Fi and gratuities – our best. value. ever.
Q: What if a guest doesn't drink alcohol?
A: There are no substitutions for the Premier Beverage package. However, this package offers many non-alcoholic drinks, including fountain sodas, fresh juices (if available), specialty coffees & teas, Frappes, smoothies, milk shakes, Red Bull energy drinks, bottled water, etc. Also, there is a pricing option if a guest does not want any of these amenities and wants rate only.
Q: How many devices per guest for Wi-Fi are provided?
A: One device can be used at a time per guest
Q: Can a guest choose to just have two of the three amenities?
A: No, all three amenities are part of this sale. There is a pricing option if a guest wants a rate only and no amenities.
Q: Do all guests in the cabin need to have the same offer?
A: Guests 1 and 2 must have the same offer. If the first and second guest have Princess Plus, it will apply to guest 3 and 4 by default. Guests 3 and 4 can opt out of this package by calling Princess to have it removed.
Q: What if rates for Princess Plus are higher than an agent's group contract rates?
A: There will be group rate protect promotions built. Promo ZZP will be used for Premier Beverage Package, Wi-Fi, Gratuities.
Q: Is there any difference to the Wi-Fi benefits of a guest booked with Platinum and Elite benefits who gets this?
A: No impact. Guests receiving this offer will enjoy unlimited Wi-Fi benefits.
Q: If I am on a cruisetour, will the premier beverage package, Wi-Fi and gratuities apply on land?
A: No, these are only applicable during the cruise and not during the land portion of cruisetours
Q: What if a guest booked under a rate that doesn't have Princess Plus amenities?
A: The Travel Advisor can apply the amenities for the client using an offer code to add the amenities for a modest upcharge. For example, using the code BEST3 provides drinks, wi-fi, and gratuities at a charge of $40 per person per day.