Does Holland Have You Dreaming Of Tulips?
Learn how to experience their legendary Tulip Festival in style!
If a European River Cruise through the Netherlands sounds like a dream come true, imagine miles of landscape covered in tulips! Sound like a fantasy? During the months of April and May each year, it's quite the reality throughout Holland, Belgium, and beyond.
To say the Dutch take tulips seriously is an understatement. But once you witness their beauty, it's easy to see why. Imported into Holland in the sixteenth century, seas of pink, yellow, orange, red, and even white are everywhere you turn. And if you think tulip season is just a bunch of people leisurely strolling through fragrant fields of tulips, think again!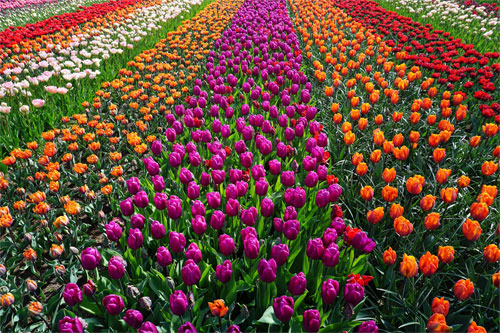 Although you'll find scores of events throughout the Netherlands celebrating their beloved perennials, the Tulip Festival in Amsterdam is KING. Founded by Garden Designer Saskia Albrecht, her vision was to "bring the tulip back to the streets of Amsterdam". And did she ever! If you want to view the beautiful blooms, you have 85 different locations to choose from, all in public places from flower fields to hotels so they're free to enjoy.
Flower parades take place in various cities throughout Holland and volunteers work throughout the year to make each one spectacular, but the crown jewel is the Keukenhof Flower Parade (it's official name is actually Bloemencorso Bollenstreek). This event is the highlight of spring in Holland, gathering more than a million people from around the world. Colorful floats made of hyacinths, daffodils, and of course tulips, glide through the streets for gleeful onlookers. Since this is such a sight to be seen, hotels are hard to come by, so plan your visit plenty in advance.
One of the most popular locations to view tulips (and one of the few that requires a ticket purchase) is the Keukenhof Gardens. Nearly 7 million bulbs are planted here and 800 different kinds of tulips. With over 10 miles of paths to walk through, visitors will enjoy fountains, artwork, bike rentals, playgrounds, a petting zoo, and various daily events throughout the high season. Want to know everything there is to know about tulips? They have an expedition for that, too.
For those of you who want to kick their tulip viewing up a notch, each Saturday during the beginning of the season, you can book a helicopter ride above the tulip fields. As if they weren't beautiful enough from the ground, imagine how breathtaking they'd be from the sky! This is truly the ultimate in sightseeing and will have you touring the fields like a VIP.
If you're ready to pack your bags, there's no better way get there than a fully escorted Avalon Waterways Tulip Time River Cruise. Imagine being transported through endless flower fields, to the iconic waterways and windmills of Amsterdam. You'll also see the ancient and modern mix of Belgium's architecture.A river cruise offers travelers access to sights unseen any other way and a lifetime of priceless memories. A perfect mix of guided sightseeing and days at leisure, a river cruise will leave you feeling enriched yet rejuvenated.
---